Launch day traffic
Launching your microstartup can be a good way to get the initial traffic to your website. But how long does it last?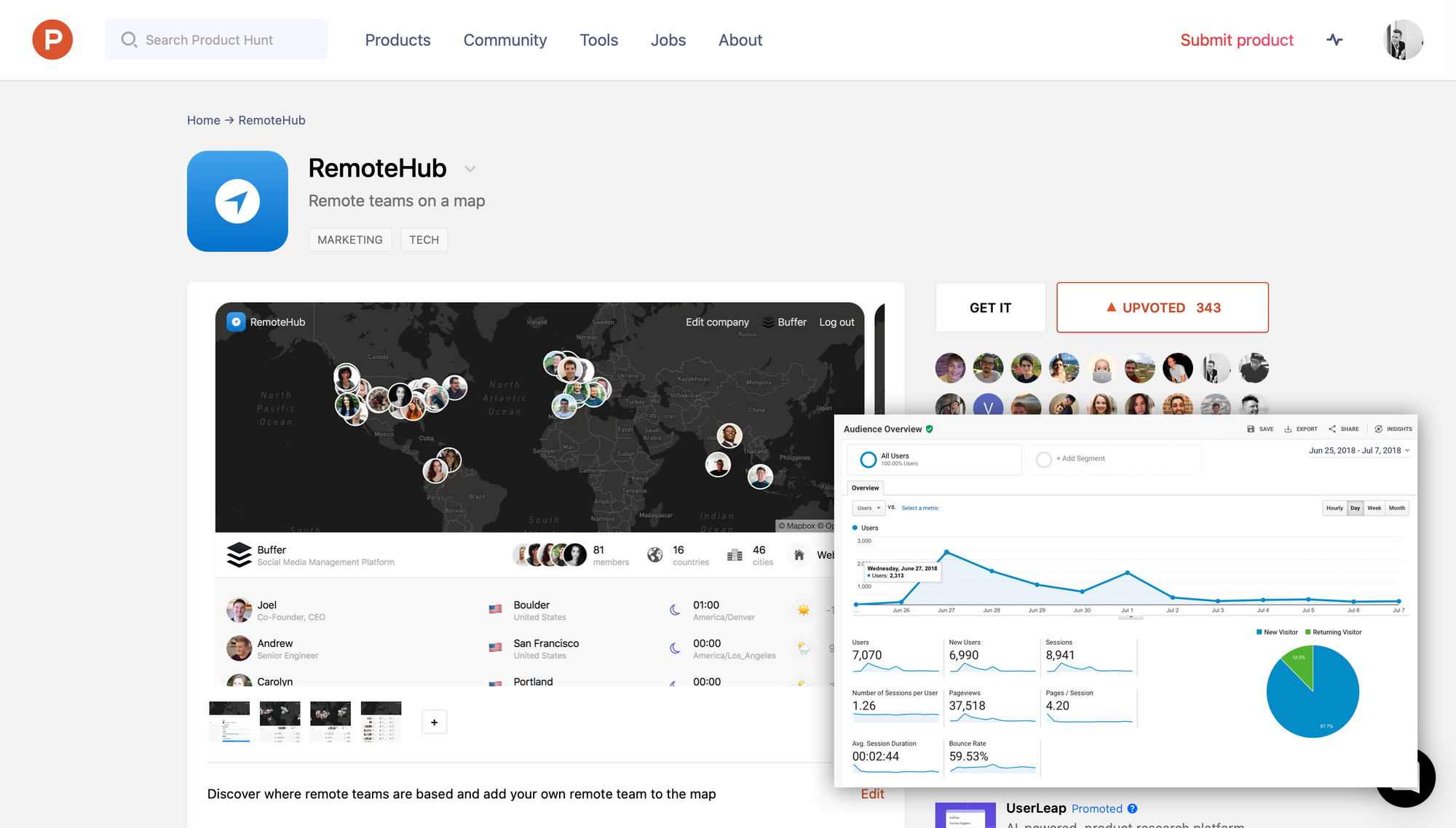 We talk about launching our startups on Product Hunt and Hacker News.
Yes, of course we want feedback to understand if what we're building is useful for others.
But what we really want is traffic.
And this traffic peak is important. We can work on SEO, but it takes time.
It's exciting to get thousands of people to our website on the launch day. But how long does this "launch day traffic" last and how can we retain it?
I'll look at my own stats based on a few product launches.
Product Hunt
I built a small website called RemoteHub (which I've now renamed to Remote Hunt) that listed maybe around 20 remote companies with their distributed team locations on a map.
It was my second launch on Product Hunt and it was fun! Even Product Hunt's founder Ryan Hoover tweeted and commented.
My goal was to get traffic, and I did reach almost 2,000 people through Product Hunt launch:
804 on the first day
562 on the second day
258 on the third day
but then it came down from 100 to 50 visitors per day in a week
So yes, almost 2,000 people saw my website, but they were gone in a week.
Hacker News
3 months later I posted Remote Hunt to Hacker News.
Again, the goal was to get traffic to my site:
3,877 on the first day
2,357 on the second day
815 on the third day
then it came down from 400 to 70 visitors per day in a week
Traffic numbers are 4 times higher, but the pattern is the same.
Product-platform fit
I'll give one more example here from my own projects just to show you that how much traffic you get depends on the product-platform fit.
MakeHub is a crowdsourced list of startups made by solo developers. You could easily see that this is a more interesting product for the Product Hunt community, resulting in almost 4 times higher engagement numbers.
Remote Hunt got an upvote from 343 people and resulted in 2,000 visitors.
MakeHub got 766 upvotes and 7,000 visitors.
But being more relevant to the platform doesn't change the pattern. Visitors were once again gone in a week.
Capture the audience
So yes, it is possible to get thousands of people visiting your startup's website on the launch day, but they are gone in a week if you don't capture them:
Create new content. I'm sure at least some of the audience will keep coming back for at least a few days after discovering your product on the launch day. But if there's not anything new for them, there's no point to return.
Get their email. Let them subscribe to your email list. It's a nice way to capture your launch day audience and remind them of new content in the future. I didn't build an email list for Remote Hunt right from the beginning, but I got around 2,000 emails from MakeHub's launch.
Over to you
I'm curious about your launch day traffic. Where did you launch, how much traffic you got, were you able to capture the audience, and did you notice a similar pattern where visits came back to normal after a week after the launch?
Tweet me @raunometsa or send me an email to rauno@raumet.com

You can join me in my home office on Twitter where I share my learnings about building profitable internet startups.