Solo Developers Making $1,100,000 per Month
Yes, it's possible for a solo developer to build a profitable microstartup to pay the bills and live life on their own terms.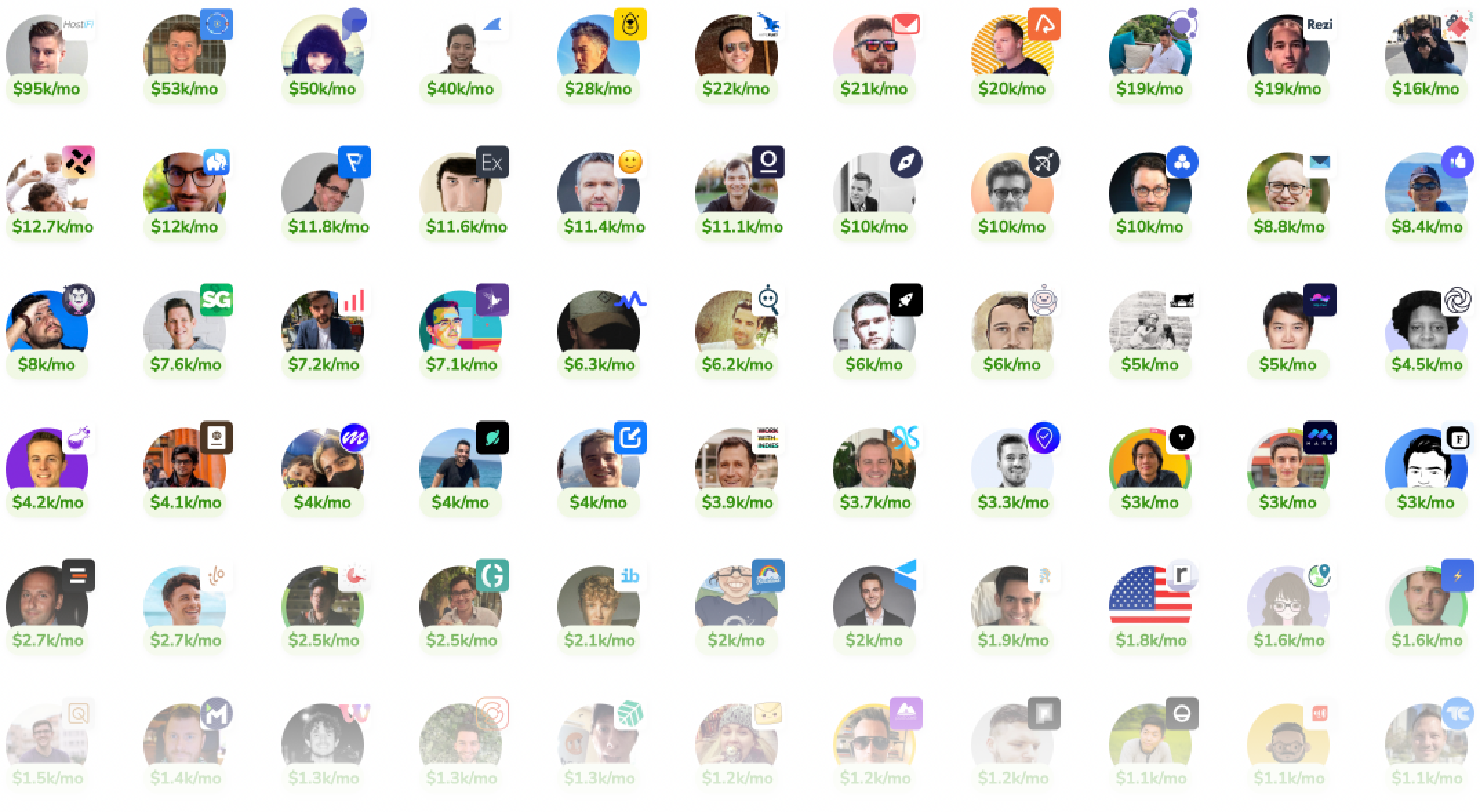 How to start a startup?
a) Raise millions of dollars of VC money and give away a big part of your company. Focus on growth and not revenue. Work on many things you don't enjoy. Probably a little sleep, and a lot of stress.

b) Bootstrap with minimum expenses and keep company to yourself. Concentrate on profit from day one. Have enough money to pay your bills and have the freedom to plan your schedule each week to work on the things you want.
168 solo developers on my website MicroFounder has chosen option (b) and they're building their startups as solo developers.
I call them "microfounders."
Most are making up to $5,000 per month
1/3 of microfounders have been able to grow their MRR (monthly recurring revenue) to more than $5,000 per month.
It depends on where you live and what your life circumstances are, but I think $5,000 MRR helps developers to at least reduce their full-time job to a part-time role if not to quit their job altogether.
2/3 are making less than $5k per month. Some of them are just starting out, and yes, some of them have been working on their startups for a few years.
But what I've noticed is that maybe one of the most important differences between successful microfounders and the ones who haven't yet "made it" is just pure consistency.
When I looked at a random set of 20 microstartups, I saw that they reached $5k MRR in a median of 14 months. This doesn't seem to be that long.
But when I talked to the founders behind these startups, I understood that it's not that simple – while their products took maybe a year to reach $5k MRR, the founder themselves have been in the making for several years.
Hah, kinda true, what you aren't seeing is the year before that I was working on the product and not advertising it well. And the 10 years before that of working on other products and figuring out what works and what doesn't!
Building on top of big platforms
Many microfounders are building on top of popular platforms. 10% of all startups ($100k/month) are built on Twitter and 5% ($50k/month) on Notion.
Maybe it's easier to start by extending the functionality of an existing platform or maybe it's easier to find customers from popular platforms. Probably it's the combination of these two.
Twitter startups usually help you to schedule tweets and grow your account, Notion startups use the platform as a CMS and provide different ways to display the data (websites, graphs, etc.)
But most startups are not built on top of other platforms, there are job boards, analytics & user feedback tools, form builders, AI content writers, image API-s, web scraping tools, and many others.
You don't have to build a huge audience
While it can be helpful to build an audience, like a big Twitter following or email list, this doesn't seem to be a requirement for succeeding with your microstartup.
More than 80% of microfounders have less than 5,000 Twitter followers.
Twitter followers
Followers
%
0–100
101–500
501–1000
1001–5000
5001+
Based on 348 microfounders
Rather, being an active community member is just a way to be in touch with other people, ask and give advice, and through this develop your own product.
Anyone can become a microfounder
So yes, a solo developer can build a profitable microstartup to pay the bills and live life on their terms.
You can follow me on Twitter where I share my learnings about how to build a microstartup as a solo developer.
📝 Prepare > Idea > Launch > Grow
📦 150+ microstartups with revenue
🤔 How to avoid 5 common mistakes?
Get MicroFounder OS
A developer's operating system to becoming a microfounder
Get MicroFounder OS

You can join me in my home office on Twitter where I share my learnings about building profitable internet startups.